You may purchase any item on this site with a full money back guarantee. We understand that it's difficult to visualize the size and color of artwork by viewing it on your monitor. The reason we offer this guarantee is because I have full confidence that you will be pleased with your purchase. Every customer who has purchased from this site so far has sent me an email stating that
when they received it. If you are not happy with your purchase after you receive it, simply return it for a full refund of your purchase price. Shipping is not included.
Important Ordering Info Please Read:

Watercolors by Jack offers an easy, secure, and efficient way of doing business. Our "shopping cart" system, allows you to browse around our site and choose the items that you would like to purchase. Every item is added to the "shopping cart" until you are ready to "check out".
Make sure that you submit a correct e-mail address. It is very important as we use this address to send shipping notifications. Your information is never provided or sold to a third party.

Please email us with the contact the artist link if you have any questions before you order. If you have difficulty placing your order I will try to assist you. If you would like me to call you and discuss your order or take your order over the phone please state that in your email and include your telephone number and area code.
How to Order ONLINE and Credit Card Processing of Orders:
We accept order via phone, email, or online. We accept payment via personal check or money order, PayPal or
A)
If you are viewing a painting in the gallery that you like then click on the image to open it in a larger window.
B)
Each item has a "Make a Selection" box in the lower left corner. Clicking on the box will dropdown a list of available items for that painting. Usually each selection has
A) "8 x 10" Matted Print
(these are hand cut mats, neutral color and fit a standard 8x10 frame. Item is shipped flat)
B) "11 x 14" Matted Print
(these are hand cut mats, neutral color and fit a standard 11x14 frame. Item is shipped flat)
C) "16 x 20" Limited Edition Matted Print
(these are signed and numbered in hand cut mats, neutral color and fit a standard 11x14 frame.)
D) Set of 5 Notecards
(this is a set of 5 notecards with envelopes. They all have the same image and are blank inside for your personal message)
Click on the item you wish to purchase, change the quantity to the number of items you want to buy (Default is 1) and then click on the
"ADD TO CART"
button.
Click on the
"Check out Now"
link if you are finished or continue shopping.
C)
On the checkout page you can verify and change your order quantities and complete the order information. If you are a resident of Pennsylvania you must pay 6% Sales Tax. U. S. Orders will be charged a flat rate $5.00 shipping cost. Orders over $50.00 will be shipped
FREE.
International orders will be billed shipping at actual cost. See Instructions further below for International orders
Finishing the Checkout with a Credit Card


The "Checkout Now" will bring you to the page where you choose your method of payment. Next fill out the form to complete the process. Then, click once on "Submit Order" button.
This next page is the final one. You will see your total purchases. Click on the "Pay Now" button to finalize your order. This will bring you to the PayPal site where you have a choice of paying by credit card or to use your PayPal account.
The PayPal page will normally look like this: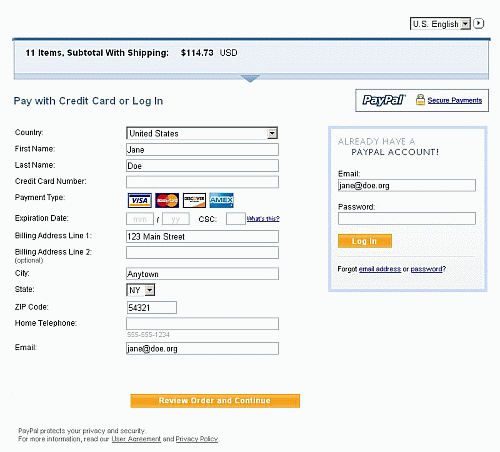 You can choose between paying by credit card, or by using your PayPal account. Please note that you do not need to create a PayPal account.
Because the connection to PayPal Payment Services is an encrypted (secure) connection, it will take a while when you are using a dial-up modem.
When you have visited the PayPal web site before, your computer might have PayPal cookies in the browser. In that case, the PayPal page looks a little different: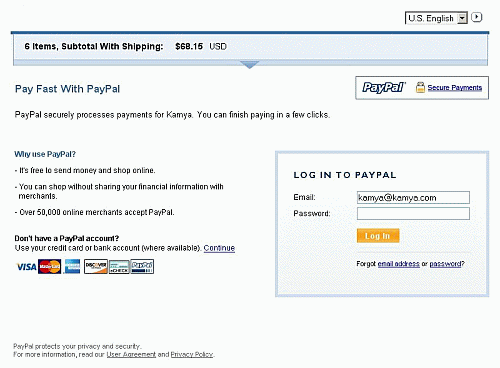 Again, please note that can choose between paying by credit card, or using your PayPal account. You do not need to create a PayPal account if you do not want to. Just click on the "Continue" Button as shown in the image below:

International Orders
Follow the same procedure above (Making your order) from #1 to #5.
Select "International" as the Shipping Option.
Fill out the form and submit.
You will receive two e-mails from us: the first one confirms your order, and wait for the second one with the total cost of your order, including the shipping fee. That is because we are not able to calculate shipping costs for international orders online.
This second e-mail includes the subtotal and shipping fee, and it also has a link to the payment page, if paying by credit card or PayPal. We also accept checks or money orders in U.S. Funds.
Shipping fees for international orders are based on the total weight of the completed order and the country of destination.
An e-mail will be sent to you for the total cost, including the shipping fee, and the link for the payment page. The procedure for Checkout through PayPal is the same as the instructions above for US orders.
WE WANT YOU TO ENJOY YOUR ARTWORK AND MAKE A "
SAFE AND SECURE ONLINE PURCHASE
"